The Fifth Sunday after Pentecost
July 5, 2020
(recorded service)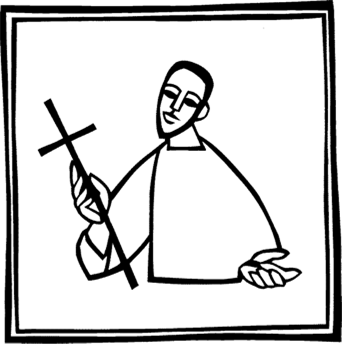 St. Peter's by the Sea Lutheran Church
1371 Sunset Cliffs Boulevard
San Diego, CA  92107
619-224-2894

Gathering
Bold type means congregational participation.
PRELUDE                                                                                                     St. Peter's Choir
*  CONFESSION AND FOREGIVENESS
P          Blessed be the holy Trinity, ☩ one God, whose steadfast love is everlasting,
whose faithfulness endures from generation to generation.
C         Amen.
P          Trusting in the mercy of God, let us confess our sin.
Reconciling God,
C         we confess that we do not trust your abundance, and we deny your presence in our lives. We place our hope in ourselves and rely on our own efforts. We fail to believe that you provide enough for all. We abuse your good creation for our own benefit. We fear difference and do not welcome others as you have welcomed us. We sin in thought, word, and deed. By your grace, forgive us; through your love, renew us; and in your Spirit, lead us; so that we may live and serve you in newness of life. Amen.
P          Beloved of God, by the radical abundance of divine mercy we have peace with God through ☩ Christ Jesus, through whom we have obtained grace upon grace. Our sins are forgiven. Let us live now in hope. For hope does not disappoint, because God's love has been poured into our hearts through the Holy Spirit.
C         Amen.
*  OPENING HYMN                                                       Come, Join the Dance of Trinity
ELW Hymn #412
*  GREETING
P          The grace of our Lord Jesus Christ, the love of God, and the communion of the Holy Spirit be with you all.
C         And also with you.
*  PRAYER OF THE DAY
P          Let us pray.  You are great, O God, and greatly to be praised. You have made us for yourself, and our hearts are restless until they rest in you. Grant that we may believe in you, call upon you, know you, and serve you, through your Son, Jesus Christ, our Savior and Lord.
C         Amen.

Word
FIRST READING                                               Congregation Deacon, Nancy Aeling
L    A reading from Zechariah.
 9:9 Rejoice greatly, O daughter Zion!
  Shout aloud, O daughter Jerusalem!
 Lo, your king comes to you;
  triumphant and victorious is he,
 humble and riding on a donkey,
  on a colt, the foal of a donkey.
 10He will cut off the chariot from Ephraim
  and the war-horse from Jerusalem;
 and the battle bow shall be cut off,
  and he shall command peace to the nations;
 his dominion shall be from sea to sea,
  and from the River to the ends of the earth.

 11As for you also, because of the blood of my covenant with you,
  I will set your prisoners free from the waterless pit.
 12Return to your stronghold, O prisoners of hope;
  today I declare that I will restore to you double.
L          Word of God, word of life.
C         Thanks be to God.
PSALM
L    Let us pray Psalm 145 responsively.
8The Lord is gracious and full of compassion,
  slow to anger and abounding in steadfast love.
9Lord, you are good to all,
  and your compassion is over all your works.
10All your works shall praise you, O Lord,
  and your faithful ones shall bless you.
11They shall tell of the glory of your kingdom
  and speak of your power,
12that all people may know of your power
  and the glorious splendor of your kingdom.
13Your kingdom is an everlasting kingdom;
  your dominion endures throughout all ages.
  You, Lord, are faithful in all your words, and loving in all your works.
14The Lord upholds all those who fall
  and lifts up those who are bowed down.
Glory to the Father, and to the Son, and to the Holy Spirit;
as it was in the beginning, is now, and will be forever.  Amen.
SECOND READING
L    A reading from Romans.
7:15 I do not understand my own actions. For I do not do what I want, but I do the very thing I hate. 16Now if I do what I do not want, I agree that the law is good. 17But in fact it is no longer I that do it, but sin that dwells within me. 18For I know that nothing good dwells within me, that is, in my flesh. I can will what is right, but I cannot do it. 19For I do not do the good I want, but the evil I do not want is what I do. 20Now if I do what I do not want, it is no longer I that do it, but sin that dwells within me.
         21So I find it to be a law that when I want to do what is good, evil lies close at hand. 22For I delight in the law of God in my inmost self, 23but I see in my members another law at war with the law of my mind, making me captive to the law of sin that dwells in my members. 24Wretched man that I am! Who will rescue me from this body of death? 25aThanks be to God through Jesus Christ our Lord!
L          Word of God, word of life.
C         Thanks be to God.
*  GOSPEL READING
P          The Holy Gospel according to Matthew.
C         Glory to you, O Lord.
11:1 Now when Jesus had finished instructing his twelve disciples, he went on from there to teach and proclaim his message in their cities.
2When John heard in prison what the Messiah was doing, he sent word by his disciples 3and said to him, "Are you the one who is to come, or are we to wait for another?" 4Jesus answered them, "Go and tell John what you hear and see: 5the blind receive their sight, the lame walk, the lepers are cleansed, the deaf hear, the dead are raised, and the poor have good news brought to them. 6And blessed is anyone who takes no offense at me."
7As they went away, Jesus began to speak to the crowds about John: "What did you go out into the wilderness to look at? A reed shaken by the wind? 8What then did you go out to see? Someone dressed in soft robes? Look, those who wear soft robes are in royal palaces. 9What then did you go out to see? A prophet? Yes, I tell you, and more than a prophet. 10This is the one about whom it is written,
'See, I am sending my messenger ahead of you,
 who will prepare your way before you.'
11Truly I tell you, among those born of women no one has arisen greater than John the Baptist; yet the least in the kingdom of heaven is greater than he.
P          The Gospel of the Lord.
C         Praise to you, O Christ.
*  HYMN OF THE DAY                                                  What a Friend We Have in Jesus
ELW Hymn #742
*  APOSTLES' CREED
I believe in God, the Father almighty,
            creator of heaven and earth.
I believe in Jesus Christ, God's only Son, our Lord,
            who was conceived by the Holy Spirit,
            born of the virgin Mary,
            suffered under Pontius Pilate,
            was crucified, died, and was buried;
            he descended to the dead.
            On the third day he rose again;
            he ascended into heaven,
            he is seated at the right hand of the Father,
            and he will come to judge the living and the dead.
I believe in the Holy Spirit,
            the holy catholic church,
            the communion of saints,
            the forgiveness of sins,
            the resurrection of the body,
            and the life everlasting. Amen.
*  PRAYERS                                               After each petition,    D  … Hear us, O God.
                                                                                                     C    Your mercy is great.
P          Into your hands, O Lord, we commend all for whom we pray trusting in your mercy through Jesus Christ. Amen.
*  PEACE
P          The peace of Christ be with you always.
C         And also with you.

Meal
OFFERING PRAYER
D         Let us pray. God of goodness and growth, all creation is yours, and your faithfulness is as firm as the heavens. Water and word, wine and bread: these are signs of your abundant grace. Nourish us through these gifts, that we might proclaim your steadfast love in our communities and in the world, through Jesus Christ, our strength and our song.
C         Amen.
*  GREAT THANKSGIVING
P          The Lord be with you.
C         And also with you.
P          Lift up your hearts.
C         We lift them to the Lord.
P          Let us give thanks to the Lord our God
C         It is right to give our thanks and praise.
P          It is indeed right, our duty and our joy,
that we should at all times and in all places
give thanks and praise to you, almighty and merciful God,
through our Savior Jesus Christ;
who on this day overcame death and the grave,
and by his glorious resurrection opened to us the way of everlasting life.
And so, with all the choirs of angels,
with the church on earth and the hosts of heaven,
we praise your holy name.
*  THANKSGIVING AT THE TABLE
P          Holy God,
our Maker, Redeemer, and Healer,
in the harmonious world of your creation,
the plants and animals,
the seas and stars
were whole and well in your praise.
When sin had scarred the world,
you sent your Son to heal our ills
and to form us again into one.
In the night in which he was betrayed,
our Lord Jesus took bread, and gave thanks;
broke it, and gave it to his disciples, saying:
Take and eat; this is my body, given for you.
Do this for the remembrance of me.
Again, after supper, he took the cup, gave thanks,
and gave it for all to drink, saying:
This cup is the new covenant in my blood,
shed for you and for all people for the forgiveness of sin.
Do this for the remembrance of me.
Remembering, therefore,
his acts of healing,
his body given up,
and his victory over death,
we await that day when all the peoples of the earth
will come to the river to enjoy the tree of life.
Send your Spirit upon us and this meal:
as grains scattered on the hillside become one bread,
so let your Church be gathered from the ends of the earth,
that all may be fed with the Bread of life, your Son.
Through him all glory and honor is yours,
Almighty Father, with the Holy Spirit,
in your holy Church,
both now and forever.
C         Amen.
*  THE LORD'S PRAYER
C         Our Father in heaven, hallowed be your name, your kingdom come, your will be done, on earth as in heaven. Give us today our daily bread. Forgive us our sins as we forgive those who sin against us. Save us from the time of trial and deliver us from evil. For the kingdom, the power, and the glory are yours, now and forever. Amen.
P          The gifts of God, for the people of God.
C         Thanks be to God.
COMMUNION                                CHRIST BIDS YOU WELCOME TO THIS HOLY MEAL!
All baptized Christians are invited to receive communion.  Receive the blessing offered by Pastor Rick and commune each other in your homes repeating the blessings:
 (bread)           This is the body of Christ, broken for you.     (response: Amen.)
(wine/juice)     This is the blood of Christ, shed for you.        (response: Amen.)
*  BLESSINGS AND PRAYERS
P          The body and blood of our Lord Jesus Christ strengthen you and keep you in his grace.
C         Amen.
*  POST COMMUNION PRAYER
D         Let us pray. God of the welcome table, in this meal we have feasted on your goodness and have been united by your presence among us. Empower us to go forth sustained by these gifts so that we may share your neighborly love with all, through Jesus Christ, the giver of abundant life.
C         Amen.

Sending
*  BLESSING
P          Neither death, nor life, nor angels, nor rulers, nor things present, nor things to come, nor powers, nor height, nor depth, nor anything else in all creation, will be able to separate us from the love of God in Christ Jesus. God, the creator, ☩ Jesus, the Christ, and the Holy Spirit, the comforter, bless you and keep you in eternal love.
C         Amen.
*  SENDING HYMN                                                         O Beautiful for Spacious Skies
ELW Hymn #888
*  DISMISSAL
D         Go in peace. Christ is with you.
C         Thanks be to God.
POSTLUDE
SCRIPTURES FOR THE COMING WEEK
Reflections for Sunday, 07-05-2020, The Fifth Sunday after Pentecost
Preparation for Sunday, 07-12-2020, The Sixth Sunday after Pentecost
Scripture for Sunday, 07-12-2020, The Sixth Sunday after Pentecost
IN OUR PRAYERS
We keep the following members of St. Peter's in our prayers:
Rose, Dean, Colleen
Our homebound members and those in care facilities:
Keith, Leon, Wayne, Dora, Beverly, Bruce, Dante, Kevin, Marcia, Bobbi
Our members with on-going concerns:
Steve F., Ann Z., JT, Lorrayne
Our military, police, fire fighters, first responders and healthcare providers
Worship Leadership
| | |
| --- | --- |
| Pastor: | |
| Director of Music: | |
| Worship Assistant: | Congregation Deacon Nancy Aeling |
| Videographer: | Evan |
Altar Flowers: Today we thank Duane Beck for the flowers at the altar, given in memory of Pat Beck and Kim Richer.
2020 Congregation Council: Jim Grutkowski, President; Ellen Schmeding, Vice-President; Lyle Boelter, Secretary; Brenda Johnson, Treasurer; Jane Christensen; Ben Fadden; Christina Fadden; Jon O'Brien; Max Phelps; Deirdre Slaughter.
St. Peter's by the Sea Lutheran Church
1371 Sunset Cliffs Blvd.
San Diego  CA  92107
619-224-2894
From sundaysandseasons.com.
Copyright © 2020 Augsburg Fortress. All rights reserved.