The Sixteenth Sunday after Pentecost
September 12, 2021 at 9:30 a.m.
(live-streamed)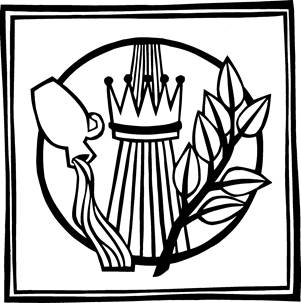 St. Peter's by the Sea Lutheran Church
1371 Sunset Cliffs Boulevard
San Diego, CA  92107
619-224-2894

Gathering
Notes on worshiping indoors during this COVID Recovery Time:
-Masks: we are constantly evaluating the need for masks.  To date, we require masks indoors to protect our children, to protect against the spread of the Delta variant, and because wearing masks enables us to welcome the immunocompromised.
-Singing: since the virus is spread by aerosols, we are refraining from singing indoors.
-Space: we cannot physically distance in this space, however, when getting up for communion, leave space between your family/party and the next.
-Respect: the experience of reentry is different for everyone.  Some are eager to hug and shake hands, others want to maintain distance.  Please keep an eye out for each other and our varied comfort levels.
Please Stand (as you are able) at the parts of the liturgy marked with an asterisk (*).
Bold type means congregational participation.
PRELUDE                                                                                           It Is Well With My Soul
*  CONFESSION AND FORGIVENESS
P          Blessed be the holy Trinity, ☩ one God, who forgives all our sin, whose mercy endures forever.
C         Amen.
P          God of all mercy and consolation, come to the help of your people, turning us from our sin to live for you alone. Give us the power of your Holy Spirit that we may confess our sin, receive your forgiveness, and grow into the fullness of Jesus Christ, Our Savior and Lord.
C         Amen.
P          Let us confess our sin in the presence of God and of one another.
            Most merciful God,
C         we confess that we are captive to sin and cannot free ourselves. We have sinned against you in thought, word, and deed, by what we have done and by what we have left undone. We have not loved you with our whole heart; we have not loved our neighbors as ourselves. For the sake of your Son, Jesus Christ, have mercy on us. Forgive us, renew us, and lead us, so that we may delight in your will and walk in your ways, to the glory of your holy name. Amen.
P          God, who is rich in mercy, loved us even when we were dead in sin, and made us alive together with Christ. By grace you have been saved. In the name of ☩ Jesus Christ, your sins are forgiven. Almighty God strengthen you with power through the Holy Spirit, that Christ may live in your hearts through faith.
C         Amen.
*   OPENING HYMN                                                                               Lift High the Cross
Hymn #660 (v. 1 and 4)
*  GREETING
P          The grace of our Lord Jesus Christ, the love of God, and the communion of the Holy Spirit be with you all.
C         And also with you.
*  PRAYER OF THE DAY
P          Let us pray.  O God, through suffering and rejection you bring forth our salvation, and by the glory of the cross you transform our lives. Grant that for the sake of the gospel we may turn from the lure of evil, take up our cross, and follow your Son, Jesus Christ, our Savior and Lord.
C         Amen.

Word
FIRST READING
L         A reading from Isaiah.
         50:4 The Lord God has given me the tongue of a teacher, that I may know how to sustain the weary with a word. Morning by morning he wakens—wakens my ear to listen as those who are taught. 5The Lord God has opened my ear, and I was not rebellious, I did not turn backward. 6I gave my back to those who struck me, and my cheeks to those who pulled out the beard; I did not hide my face from insult and spitting.
         7The Lord God helps me; therefore I have not been disgraced; therefore I have set my face like flint, and I know that I shall not be put to shame; 8he who vindicates me is near. Who will contend with me? Let us stand up together. Who are my adversaries? Let them confront me. 9aIt is the Lord God who helps me; who will declare me guilty?
L          Word of God, word of life.
C         Thanks be to God.
PSALM
L    Let us pray Psalm 116 responsively.
1I love the Lord, who has heard my voice,
  and listened to my supplication,
2for the Lord has given ear to me
  whenever I called.
3The cords of death entangled me; the anguish of the grave came upon me;
  I came to grief and sorrow.
4Then I called upon the name of the Lord:
  "O Lord, I pray you, save my life."
5Gracious is the Lord and righteous;
  our God is full of compassion.
6The Lord watches over the innocent;
  I was brought low, and God saved me.
7Turn again to your rest, O my soul.
  for the Lord has dealt well with you.
8For you have rescued my life from death,
  my eyes from tears, and my feet from stumbling;
9I will walk in the presence of the Lord
  in the land of the living.
Glory to the Father, and to the Son, and to the Holy Spirit;
as it was in the beginning, is now, and will be forever.  Amen.
SECOND READING
L    A reading from James.
3:1 Not many of you should become teachers, my brothers and sisters, for you know that we who teach will be judged with greater strictness. 2For all of us make many mistakes. Anyone who makes no mistakes in speaking is perfect, able to keep the whole body in check with a bridle. 3If we put bits into the mouths of horses to make them obey us, we guide their whole bodies. 4Or look at ships: though they are so large that it takes strong winds to drive them, yet they are guided by a very small rudder wherever the will of the pilot directs. 5So also the tongue is a small member, yet it boasts of great exploits.
How great a forest is set ablaze by a small fire! 6And the tongue is a fire. The tongue is placed among our members as a world of iniquity; it stains the whole body, sets on fire the cycle of nature, and is itself set on fire by hell. 7For every species of beast and bird, of reptile and sea creature, can be tamed and has been tamed by the human species, 8but no one can tame the tongue—a restless evil, full of deadly poison. 9With it we bless the Lord and Father, and with it we curse those who are made in the likeness of God. 10From the same mouth come blessing and cursing. My brothers and sisters, this ought not to be so. 11Does a spring pour forth from the same opening both fresh and brackish water? 12Can a fig tree, my brothers and sisters, yield olives, or a grapevine figs? No more can salt water yield fresh.
L          Word of God, word of life.
C         Thanks be to God.
*  GOSPEL READING
P          The Holy Gospel according to Mark.
C         Glory to you, O Lord.
8:27 Jesus went on with his disciples to the villages of Caesarea Philippi; and on the way he asked his disciples, "Who do people say that I am?" 28And they answered him, "John the Baptist; and others, Elijah; and still others, one of the prophets." 29He asked them, "But who do you say that I am?" Peter answered him, "You are the Messiah." 30And he sternly ordered them not to tell anyone about him.
         31Then he began to teach them that the Son of Man must undergo great suffering, and be rejected by the elders, the chief priests, and the scribes, and be killed, and after three days rise again. 32He said all this quite openly. And Peter took him aside and began to rebuke him. 33But turning and looking at his disciples, he rebuked Peter and said, "Get behind me, Satan! For you are setting your mind not on divine things but on human things."
         34He called the crowd with his disciples, and said to them, "If any want to become my followers, let them deny themselves and take up their cross and follow me. 35For those who want to save their life will lose it, and those who lose their life for my sake, and for the sake of the gospel, will save it. 36For what will it profit them to gain the whole world and forfeit their life? 37Indeed, what can they give in return for their life? 38Those who are ashamed of me and of my words in this adulterous and sinful generation, of them the Son of Man will also be ashamed when he comes in the glory of his Father with the holy angels."
P          The Gospel of the Lord.
C         Praise to you, O Christ.
HYMN OF THE DAY                                                          Oh, Praise the Gracious Power
Hymn #651 (v. 1 and 4)
*  APOSTLES' CREED
C         I believe in God, the Father almighty,
creator of heaven and earth.
I believe in Jesus Christ, God's only Son, our Lord,
            who was conceived by the Holy Spirit,
            born of the virgin Mary,
            suffered under Pontius Pilate,
            was crucified, died, and was buried;
            he descended to the dead.
            On the third day he rose again;
            he ascended into heaven,
            he is seated at the right hand of the Father,
            and he will come to judge the living and the dead.
I believe in the Holy Spirit,
            the holy catholic church,
            the communion of saints,
            the forgiveness of sins,
            the resurrection of the body,
            and the life everlasting. Amen.
*  PRAYERS                                          After each petition,    D  … Lord, in your mercy,
                                                                                                           C     hear our prayer.
D         Into your hands, O Lord, we commend all for whom we pray trusting in your mercy through Jesus Christ. Amen.
*  PEACE
P          The peace of Christ be with you always.
C         And also with you.

Meal
OFFERING ANNOUNCEMENT
*  OFFERING PRAYER
D         Let us pray. God of abundance, you cause streams to break forth in the desert and manna to rain from the heavens. Accept the gifts you have first given us. Unite them with the offering of our lives to nourish the world you love so dearly; through Jesus Christ, our Savior and Lord.
C         Amen.
*  GREAT THANKSGIVING
P          The Lord be with you.
C         And also with you.
P          Lift up your hearts.
C         We lift them to the Lord.
P          Let us give thanks to the Lord our God
C         It is right to give our thanks and praise.
P          It is indeed right, our duty and our joy,
that we should at all times and in all places
give thanks and praise to you, almighty and merciful God,
through our Savior Jesus Christ;
who on this day overcame death and the grave,
and by his glorious resurrection opened to us the way of everlasting life.
And so, with all the choirs of angels,
with the church on earth and the hosts of heaven,
we praise your Holy name.
*  THANKSGIVING AT THE TABLE
P          Holy God,
our Bread of life, our Table, and our Food,
you created a world in which all might be satisfied by your abundance.
You dined with Abraham and Sarah, promising them life,
and fed your people Israel with manna from heaven.
You sent your Son to eat with sinners
and to become food for the world.
In the night in which he was betrayed,
our Lord Jesus took bread, and gave thanks;
broke it, and gave it to his disciples, saying:
Take and eat; this is my body, given for you.
Do this for the remembrance of me.
Again, after supper, he took the cup, gave thanks,
and gave it for all to drink, saying:
This cup is the new covenant in my blood,
shed for you and for all people for the forgiveness of sin.
Do this for the remembrance of me.
Remembering, therefore,
his life given for us
and his rising from the grave,
we await his coming again to share with us the everlasting feast.
By your Spirit nurture and sustain us with this meal:
strengthen us to serve all in hunger and want,
and by this bread and cup make of us the body of your Son.
Through him all glory and honor is yours,
Almighty Father, with the Holy Spirit,
in your holy Church,
both now and forever.
C         Amen.
*  THE LORD'S PRAYER
C         Our Father in heaven, hallowed be your name, your kingdom come, your will be done, on earth as in heaven. Give us today our daily bread. Forgive us our sins as we forgive those who sin against us. Save us from the time of trial and deliver us from evil. For the kingdom, the power, and the glory are yours, now and forever. Amen.
P          The gifts of God, for the people of God.
C         Thanks be to God.
COMMUNION                                   CHRIST BIDS YOU WELCOME TO THIS HOLY MEAL!
This is Christ's table, it is not our own.  All are welcome.
The usher will direct you to enter by the center aisle, leaving space between yourself and others.  With your mask on, take the bread.  Step aside and eat the bread, immediately putting your mask back on.  At the end of the chancel, you may take wine (red) or grape juice (white). Turn away from the trays of wine, drink, and dispose of your cup in the waste basket, returning to your seat by the side aisle.
If you prefer to receive a blessing from the pastor, cross your arms across your chest.
COMMUNION HYMNS
      Hymn #748          O God in Heaven
      Hymn #471          Let Us Break Bread Together
      Hymn #472          Eat This Bread
*  BLESSINGS AND PRAYERS
P          The body and blood of our Lord Jesus Christ strengthen you and keep you in his grace.
C         Amen.
*  POST COMMUNION PRAYER
D         Let us pray. Lord of life, in the gift of your body and blood you turn the crumbs of our faith into a feast of salvation. Send us forth into the world with shouts of joy, bearing witness to the abundance of your love in Jesus Christ, our Savior and Lord.
C         Amen.

Sending
*  BLESSING AND SENDING FOR GOD'S WORK OUR HANDS PROJECTS
*  BLESSING
P          People of God, you are Christ's body, bringing new life to a suffering world. The holy Trinity, ☩ one God, bless you now and forever.
C         Amen.
*  SENDING HYMN                                                                    Heaven Is Singing for Joy
Hymn #664
*  DISMISSAL
D         Go in peace. The living Word dwells in you.
C         Thanks be to God.
POSTLUDE                                                                              Grace Greater Than Our Sin
SCRIPTURES FOR THE COMING WEEK
Reflections for Sunday, 09-12-2021, The Sixteenth Sunday after Pentecost
Preparation for Sunday, 09-19-2021, The Seventeenth Sunday after Pentecost
Scripture for Sunday, 09-19-2021, The Seventeenth Sunday after Pentecost
+ + + + + + +
IN OUR PRAYERS
We keep the following members of St. Peter's in our prayers:
Lily, Joe, Rosemary
Our homebound members and those in care facilities:
Keith, Leon, Wayne, Dora, Dante, Dolores, Janet, Bruce
Our members with on-going concerns:
Steve F., Ann Z., Lorrayne, JT
Our military, police, fire fighters, first responders and healthcare providers
MASK REQUIREMENTS:
Sanctuary - masks are required to be worn while in St. Peter's by the Sea sanctuary, covering nose and mouth.
Fellowship Hall & Narthex – masks are required to be worn while in St. Peter's by the Sea Fellowship Hall and Narthex, unless seated to eat or drink.
We thank you for your cooperation in making our worship space safe for all.
WELCOME TO ST. PETER'S BY THE SEA
We are glad that you have come to worship with us today! Please sign a WELCOME card found in the pew rack, and give it to an usher or drop it in the offering plate. Large-print bulletins are available from an usher. You will find hand sanitizer in the pew rack for your use during the service.
ALTAR FLOWERS: Today, the flowers at the altar are given by Jim Grutkowski and Brenda Johnson in memory of Don Snowden.
GOD'S WORK. OUR HANDS. SUNDAY: Today's worship service will be followed by God's Work. Our Hands. activities. You're invited to help clean-up portions of Ocean Beach or write cards to residents of St. Paul's Place.
SUNDAY SCHOOL: is taking a break for the month of September. We will resume October 3rd.
HAND & FOOT: Join your St. Peter's friends for a fun night of Hand & Foot card game on Thursday, September 16th at 6:00 p.m. Please sign up on the bulletin board if you'd like to play as the game is played in groups of 4. Masks are required to be worn unless you are seated to eat or drink. All Are Welcome!
GAME NIGHT: is scheduled for Thursday, September 23rd at 6:00 p.m. Join us for a fun evening of tabletop games. Masks required unless you are seated to eat or drink. All Are Welcome!
NEWSLETTER DEADLINE: September 15th is the deadline to submit articles, announcements, photos, Thank-You's, etc. for the October issue of The Net.
St. Peter's is pleased to welcome Joe DeMers as our new Music minister.  Joe comes to us highly recommended for his excellent musical talent, his ability to play just about anything, his supportive and easygoing nature, and his big heart for others.  He is the accompanist for the San Diego Street Choir (a choir made up of mostly homeless and housing-insecure individuals), an accompanist for the music programs at Southwestern Community College, and is a retired choral director and music educator at Eastlake High School, Chula Vista.  He is a member at First Lutheran Church, has served on their council, and as their interim musician during the pandemic.  He has extensive experience with Lutheran worship and music, a light-hearted nature, an adaptable style, and we are excited for him to join our community.  His first Sunday will be Sept. 19th.  Join us in welcoming him!
The Week Beginning September 12, 2021
Sunday, September 12        The Sixteenth Sunday after Pentecost
        9:30 a.m.                        Worship Service
      10:30 a.m.                        God's Work. Our Hands.
        7:00 p.m.                        Al-Anon - Sunday Night Courage to Change
Monday, September 13
        6:45 p.m.                        Al-Anon - Parent's One Day at a Time
Tuesday, September 14
      11:00 a.m.                        Staff Meeting
        4:00 p.m.                        AA Meeting - Sobriety Seekers
        5:00 p.m.                        Congregation Council
Wednesday, September 15 Newsletter Articles Due
Thursday, September 16
        6:00 p.m.                        Hand & Foot Card Game
        7:00 p.m.                        Stewardship Committee
Friday, September 17
        1:00 p.m.                        Set-up for Memorial Service
Saturday, September 18
      11:00 a.m.                        Memorial Service for Violet Forbes
Sunday, September 19        The Seventeenth Sunday after Pentecost
        9:30 a.m.                        Worship Service
      10:30 a.m.                        Fellowship
        7:00 p.m.                        Al-Anon - Sunday Night Courage to Change
Worship Leadership
| | |
| --- | --- |
| Pastor: | |
| Worship Assistant: | Congregation Deacon Jennifer Smart |
| Guest Pianist: | Sonja D'Anneo |
| Cantor: | Solveig Fuentes |
| Lector: | Bob Fode |
| Ushers: | Bob Fode and Jane Landon |
| Greeter: | Brenda Johnson |
| Digital Production Team: | Lyle Boelter, Charles Lauger, Evan Smart |
2021 Congregation Council: Ellen Schmeding, President; Darlene Morrow Truver, Vice-President; Lyle Boelter, Secretary; Brenda Johnson, Treasurer; Fletcher Miller; Jon O'Brien; Steve Silva.
Hurricane Ida:
As a strong Category 4 storm, Hurricane Ida's 150 mph winds, torrential rain and strong storm surge caused widespread flooding and wind damage in southeastern Louisiana and coastal Mississippi. The impact of Ida is yet to be fully assessed, but with a hurricane of this scale, rebuilding will be costly and take years.
Lutheran Disaster Response is working with local ELCA synods and Lutheran social service organizations to coordinate a response to Hurricane Ida. Immediate needs will include food, basic necessities and temporary housing. Long after the headlines change, Lutheran Disaster Response will continue to accompany communities on the journey of rebuilding their homes and lives.
California Wildfires:
The 2021 wildfire season is devastating the western United States and California is currently the hardest-hit state. Lutheran Disaster Response is working with synods and social ministry organizations in California and other western states to develop a coordinated response to the wildfires.
Because emotional and spiritual care is a key aspect of disaster response, the Sierra Pacific Synod is developing a Lutheran Chaplaincy Corps, training rostered leaders and laypeople to offer such care to first responders and survivors after a disaster.
Haiti Crisis:
Last month, a devastating 7.2 magnitude earthquake struck southwest Haiti. Over 1,400 people were killed, thousands more were injured and at least 26,000 homes were damaged or destroyed.
Lutheran Disaster Response is collaborating with partner organizations in the communities to meet relief needs, including food, nonfood items, temporary shelter, as well as psychosocial care, water and sanitation.
Your gifts to "U.S. Hurricanes", "U.S. Wildfires", and/or "Haiti Crisis" will be used in full (100%) to assist those affected until the response is complete.
Contributions to Lutheran Disaster Response marked "Where Needed Most" are also greatly appreciated.
From sundaysandseasons.com.
Copyright © 2021 Augsburg Fortress. All rights reserved.
Permission to reprint, podcast, and / or stream the music in this service obtained from ONE LICENSE with license #A-712165. All rights reserved.