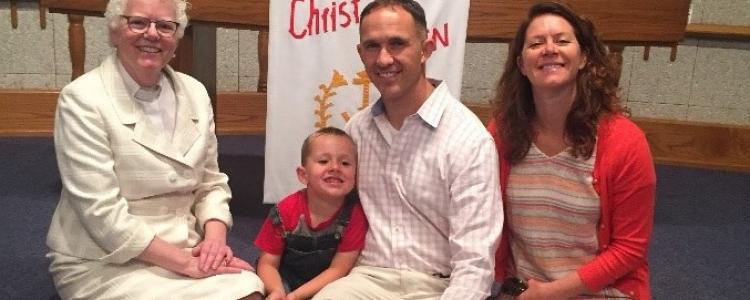 It is always a joy to celebrate the sacrament of Baptism, but it is a special joy during the Easter season.  Since that is one of my favorite themes I am always on the lookout for the chance to talk about baptism…and the Easter season gives us scripture readings that open and invite us to remember our baptism.  In mid-May we had the joy of celebrating baptism with an entire family!  Jason is in the military and an emergency room doctor.  He met his wife, Nici, when they were both in medical school.  Nici was in the Navy but switched branches when they got married.  She is an ENT doctor and has been home since their son was born.  Conner will "graduate" from St. Peter's preschool at the end of May and be in kindergarten in the fall.  He is one of the best little Lego builders that I have ever met!  He loves his cat and dog, but misses his horse who still lives in Washington State.  When I asked Jason and Nici what was drawing them to the Waters of Baptism now, they told me that they had never been invited so clearly and so plainly until now.  This is so great!  Invitation does matter!  Pete and Kara Bleday are sponsors for the Bothwell family in their baptism and in their life with the congregation of St. Peter's by the Sea.  Being a military family (and a St. Peter's Preschool family), they have some built in connections with them.
We are
all
called to remember our baptism but even more than that…to live it out!  The five promises that we hear in the ritual really focus our actions as the baptized Body of Christ in the world:
To live among God's faithful people
To hear the word of God and share in the Lord's supper
To proclaim the good news of God in Christ through word and deed
To serve all people, following the example of Jesus
To strive for justice and peace in all the earth.
What a covenant relationship we are called to!  God not only calls us to this life as the Body of Christ in the world…but gives us the power of the Holy Spirit to do it.  Thanks be to God for this promise; for this Sacrament of Life.  Remember your Baptism…walk wet in Christ Jesus.  Pastor Karen Marohn