Music Director: Doris Dechenne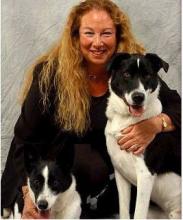 I was born and raised in southwest Washington state in a little town called Hockinson. It was a small Finnish community with a public school, a volunteer fire department, and FIVE Lutheran churches. We had a small farm with a creek that was a marvelous place for children to grow up. I was raised going to church all week-end. My Mother, a Seventh-Day Adventist, and my Father, a Christian Scientist took my sister and I to church regularly. I was "born" playing the piano. I cannot remember a time in my life when I didn't play the piano and by the time I was 10 or so was already playing rather difficult repertoire and also was playing the organ. I played my first church service when I was 13 years old.
    I attended a Christian High School and College and studied music, of course. When I graduated college in 1978 I moved to southern California in particular to study with a voice teacher in Glendale. I have been here ever since and absolutely LOVE San Diego. I started playing at St. Peter's in March of 1993. Over the years I have seen Pastors and folks come and go and my love of this wonderful church just grows and grows. We are truly blessed to have such a wonderful community of faith and I am truly blessed to be able to share in our worship services.
    When I am not playing for our services I am a full time piano and voice teacher with a schedule that keeps me very busy. In my spare time I enjoy most hanging out with my precious Bella and Buster, gardening and swimming.