The Ascension of Our Lord
May 24, 2020
(recorded service)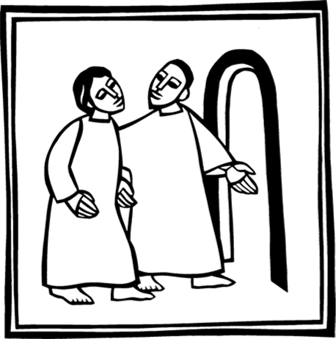 St. Peter's by the Sea Lutheran Church
1371 Sunset Cliffs Boulevard
San Diego, CA  92107
619-224-2894

Gathering
Bold type means congregational participation.
PRELUDE
*  THANKSGIVING FOR BAPTISM
P          Alleluia! Christ is risen.
C         Christ is risen indeed. Alleluia!
P          Joined to Christ in the waters of baptism, we are raised with him to new life. Let us give thanks for the gift of baptism.
We give you thanks, O God, for in the beginning you created us in your image and planted us in a well-watered garden.
In the desert you promised pools of water for the parched, and you gave us water from the rock.
When we did not know the way, you sent the Good Shepherd to lead us to still waters.
At the cross, you watered us from Jesus' wounded side, and on this day, you shower us again with the water of life.
We praise you for your salvation through water, for the water at the baptismal font, and for all water everywhere.
Bathe us in your forgiveness, grace, and love. Satisfy the thirsty, and give us the life only you can give. To you be given honor and praise through Jesus Christ our Lord in the unity of the Holy Spirit, now and forever.
C         Amen.
*  OPENING HYMN                                                          Lord, I Lift Your Name on High
ELW Hymn #857
Lord, I lift your name on high; Lord, I love to sing your praises.
I'm so glad you're in my life, I'm so glad you came to save us.
You came from heaven to earth to show the way,
From the earth to the cross, my debt to pay,
From the cross to the grave, from the grave to the sky;
Lord, I lift your name on high.
Text: Rick Founds, b. 1954; c. 1989 Maranatha Praise, Inc. admin Music Services
*  GREETING
P          The grace of our Lord Jesus Christ, the love of God, and the communion of the Holy Spirit be with you all.
C         And also with you.
*  PRAYER OF THE DAY
P          Let us pray.  O God of glory, your Son Jesus Christ suffered for us and ascended to your right hand. Unite us with Christ and each other in suffering and in joy, that all the world may be drawn into your bountiful presence, through Jesus Christ, our Savior and Lord, who lives and reigns with you and the Holy Spirit, one God, now and forever.
C         Amen.

Word
FIRST READING                                              Congregation Deacon, Jennifer Smart
L    A reading from Acts.
1:1 In the first book, Theophilus, I wrote about all that Jesus did and taught from the beginning 2until the day when he was taken up to heaven, after giving instructions through the Holy Spirit to the apostles whom he had chosen. 3After his suffering he presented himself alive to them by many convincing proofs, appearing to them during forty days and speaking about the kingdom of God. 4While staying with them, he ordered them not to leave Jerusalem, but to wait there for the promise of the Father. "This," he said, "is what you have heard from me; 5for John baptized with water, but you will be baptized with the Holy Spirit not many days from now."
6So when they had come together, they asked him, "Lord, is this the time when you will restore the kingdom to Israel?" 7He replied, "It is not for you to know the times or periods that the Father has set by his own authority. 8But you will receive power when the Holy Spirit has come upon you; and you will be my witnesses in Jerusalem, in all Judea and Samaria, and to the ends of the earth." 9When he had said this, as they were watching, he was lifted up, and a cloud took him out of their sight. 10While he was going and they were gazing up toward heaven, suddenly two men in white robes stood by them. 11They said, "Men of Galilee, why do you stand looking up toward heaven? This Jesus, who has been taken up from you into heaven, will come in the same way as you saw him go into heaven."
L          Word of God, word of life.
C         Thanks be to God.
PSALM
L    Let us pray Psalm 47 responsively.
1Clap your hands, all you peoples;
  shout to God with a joyful sound.
2For the Lord Most High is to be feared:
  a great king over all the earth,
3who subdues the peoples under us,
  and the nations under our feet;
4who chooses our inheritance for us,
  the pride of Jacob, whom God loves.
5God has gone up with a shout,
  the Lord with the sound of the ram's horn.
6Sing praises to God, sing praises;
  sing praises to our king, sing praises.
7For God is king of all the earth;
  sing praises with a song.
8God reigns over the nations;
  God is enthroned on high.
9The nobles of the peoples have gathered
       as the people of the God of Abraham.
  The rulers of the earth belong to God, who is highly exalted.
Glory to the Father, and to the Son, and to the Holy Spirit;
as it was in the beginning, is now, and will be forever.  Amen.
SECOND READING
L    A reading from Ephesians.
1:15 I have heard of your faith in the Lord Jesus and your love toward all the saints, and for this reason 16I do not cease to give thanks for you as I remember you in my prayers. 17I pray that the God of our Lord Jesus Christ, the Father of glory, may give you a spirit of wisdom and revelation as you come to know him, 18so that, with the eyes of your heart enlightened, you may know what is the hope to which he has called you, what are the riches of his glorious inheritance among the saints, 19and what is the immeasurable greatness of his power for us who believe, according to the working of his great power. 20God put this power to work in Christ when he raised him from the dead and seated him at his right hand in the heavenly places, 21far above all rule and authority and power and dominion, and above every name that is named, not only in this age but also in the age to come. 22And he has put all things under his feet and has made him the head over all things for the church, 23which is his body, the fullness of him who fills all in all.
L          Word of God, word of life.
C         Thanks be to God.
*  GOSPEL READING
P          The Holy Gospel according to Luke.
C         Glory to you, O Lord.
24:44 Then he said to them, "These are my words that I spoke to you while I was still with you - that everything written about me in the law of Moses, the prophets, and the psalms must be fulfilled." 45Then he opened their minds to understand the scriptures, 46and he said to them, "Thus it is written, that the Messiah is to suffer and to rise from the dead on the third day, 47and that repentance and forgiveness of sins is to be proclaimed in his name to all nations, beginning from Jerusalem. 48You are witnesses of these things. 49And see, I am sending upon you what my Father promised; so stay here in the city until you have been clothed with power from on high."
50Then he led them out as far as Bethany, and, lifting up his hands, he blessed them. 51While he was blessing them, he withdrew from them and was carried up into heaven. 52And they worshiped him, and returned to Jerusalem with great joy; 53and they were continually in the temple blessing God.
P          The Gospel of the Lord.
C         Praise to you, O Christ.
*  HYMN OF THE DAY                                                                               Beautiful Savior
ELW Hymn #838
1    Beautiful Savior, King of creation,
      Son of God and Son of Man!
      Truly I'd love thee, truly I'd serve thee,
      light of my soul, my joy, my crown.
2    Fair are the meadows, fair are the woodlands,
      robed in flow'rs of blooming spring;
      Jesus is fairer, Jesus is purer,
      he makes our sorrowing spirit sing.
3    Fair is the sunshine, fair is the moonlight,
      bright the sparkling stars on high;
      Jesus shines brighter, Jesus shines purer
      than all the angels in the sky.
4    Beautiful Savior, Lord of the nations,
      Son of God and Son of Man!
      Glory and honor, praise, adoration,
      now and forevermore be thine!
Text: Gesangbuch, Münster, 1677; tr. Joseph A. Seiss, 1823-1904
*  APOSTLES' CREED
I believe in God, the Father almighty,
            creator of heaven and earth.
I believe in Jesus Christ, God's only Son, our Lord,
            who was conceived by the Holy Spirit, born of the virgin Mary,
            suffered under Pontius Pilate, was crucified, died, and was buried;
            he descended to the dead.
            On the third day he rose again; he ascended into heaven,
            he is seated at the right hand of the Father,
            and he will come to judge the living and the dead.
I believe in the Holy Spirit,
            the holy catholic church,
            the communion of saints,
            the forgiveness of sins,
            the resurrection of the body,
            and the life everlasting. Amen.
*  PRAYERS                                          After each petition,    D  … Lord, in your mercy,
                                                                                                           C     hear our prayer.
*  PEACE
P          The peace of Christ be with you always.
C         And also with you.

Meal
OFFERING PRAYER
D         Let us pray. Merciful God, our ordinary gifts seem small for such a celebration, but you make of them an abundance, just as you do with our lives. Feed us again at this table for service in your name, in the strength of the risen Christ.
C         Amen.
*  GREAT THANKSGIVING
P          The Lord be with you.
C         And also with you.
P          Lift up your hearts.
C         We lift them to the Lord.
P          Let us give thanks to the Lord our God
C         It is right to give our thanks and praise.
P          It is indeed right, our duty and our joy,
that we should at all times and in all places
give thanks and praise to you, almighty and merciful God,
for the glorious resurrection of our Savior Jesus Christ;
who, enthroned forever at your right hand,
intercedes for us as our great high priest.
And so, with Mary Magdalene and Peter and all the witnesses of the resurrection,
with earth and sea and all their creatures,
and with angels and archangels, cherubim and seraphim,
we praise your holy name.
*  THANKSGIVING AT THE TABLE
P          Holy, living, and loving God,
we praise you for creating the heavens and the earth.
We bless you for bringing Noah and his family
through the waters of the flood,
for freeing your people Israel from the bonds of slavery,
and for sending your Son to be our Redeemer.
We give you thanks for Jesus who, living among us, healed the sick,
fed the hungry, and with a love stronger than death,
gave his life for others.
In the night in which he was betrayed,
our Lord Jesus took bread, and gave thanks;
broke it, and gave it to his disciples, saying:
Take and eat; this is my body, given for you.
Do this for the remembrance of me.
Again, after supper, he took the cup, gave thanks,
and gave it for all to drink, saying:
This cup is the new covenant in my blood,
shed for you and for all people for the forgiveness of sin.
Do this for the remembrance of me.
Remembering, therefore, his life-giving death
and glorious resurrection,
we await your promised life
for all this dying world.
Breathe your Spirit on us and on this bread and cup:
carry us in your arms from death to life,
that we may live as your chosen ones,
clothed in the righteousness of Christ.
Through him all glory and honor is yours,
Almighty Father, with the Holy Spirit,
in your holy Church, both now and forever.
C         Amen.
*  THE LORD'S PRAYER
C         Our Father in heaven, hallowed be your name, your kingdom come, your will be done,         on earth as in heaven. Give us today our daily bread. Forgive us our sins as we forgive those who sin against us. Save us from the time of trial and deliver us from evil. For the kingdom, the power, and the glory are yours, now and forever. Amen.
P          The gifts of God, for the people of God.
C         Thanks be to God.
COMMUNION                                CHRIST BIDS YOU WELCOME TO THIS HOLY MEAL!
All baptized Christians are invited to receive communion.  Receive the blessing offered by Pastor Rick and commune each other in your homes repeating the blessings:
 (bread)           This is the body of Christ, broken for you.         (response: Amen.)
(wine/juice)     This is the blood of Christ, shed for you.         (response: Amen.)
*  BLESSINGS AND PRAYERS
P          The body and blood of our Lord Jesus Christ strengthen you and keep you in his grace.
C         Amen.
*  POST COMMUNION PRAYER
D         Let us pray. Life-giving God, you have fed us with your word, and our hearts burn within us. Through this meal you have opened us to your presence. Now send us forth to share the gifts of Easter with all in need; through Jesus Christ our Lord.
C         Amen.

Sending
*  BLESSING
P          Receive now, God's blessing: May the One who brought forth Jesus from the dead raise you to new life, fill you with hope, and turn your mourning into dancing. Almighty God, Father, ☩ Son, and Holy Spirit, bless you now and forever.
C         Amen.
*  SENDING HYMN                                                              I'm So Glad Jesus Lifted Me
ELW Hymn #860
1    I'm so glad Jesus lifted me.
      I'm so glad Jesus lifted me.
      I'm so glad Jesus lifted me,
      singing glory, hallelujah! Jesus lifted me.
2    Satan had me bound, Jesus lifted me.
      Satan had me bound, Jesus lifted me.
      Satan had me bound, Jesus lifted me,
      singing glory, hallelujah! Jesus lifted me.
3    When I was in trouble, Jesus lifted me.
      When I was in trouble, Jesus lifted me.
      When I was in trouble, Jesus lifted me,
      singing glory, hallelujah! Jesus lifted me.
Text: African American spiritual
*  DISMISSAL
D         Christ is risen, just as he said. Share the good news. Alleluia!
C         Thanks be to God. Alleluia!
POSTLUDE
IN OUR PRAYERS
We keep the following members of St. Peter's in our prayers:
Rose, Dean, Colleen, Bobbi
Our homebound members and those in care facilities:
Keith, Leon, Wayne, Dora, Beverly, Bruce T., Dante, Kevin, Marcia
Our members with on-going concerns:
Steve F., Ann Z., JT, Lorrayne
Our military, police, fire fighters, first responders and healthcare providers
SCRIPTURES FOR THE COMING WEEK
Reflections for Sunday, 05-24-2020, The Ascension of Our Lord
Preparation for Sunday, 05-31-2020, The Day of Pentecost
Scripture for Sunday, 05-31-2020, The Day of Pentecost
Worship Leadership
| | |
| --- | --- |
| Pastor: | |
| Director of Music: | |
| Worship Assistant: | Congregation Deacon Jennifer Smart |
| Videographer/Editor: | Evan Smart |
2020 Congregation Council: Jim Grutkowski, President; Ellen Schmeding, Vice-President; Lyle Boelter, Secretary; Brenda Johnson, Treasurer; Jane Christensen; Ben Fadden; Christina Fadden; Jon O'Brien; Max Phelps; Deirdre Slaughter.
St. Peter's by the Sea Lutheran Church
1371 Sunset Cliffs Blvd.
San Diego  CA  92107
619-224-2894
From sundaysandseasons.com.
Copyright © 2020 Augsburg Fortress. All rights reserved.