The Sixteenth Sunday after Pentecost
September 17, 2023 at 9:30 a.m.
(live-streamed)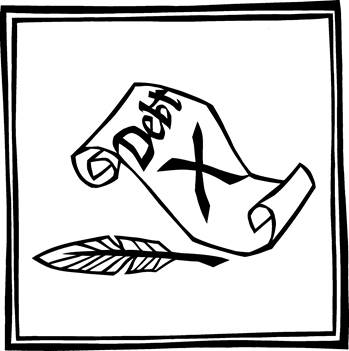 St. Peter's by the Sea Lutheran Church
1371 Sunset Cliffs Boulevard
San Diego, CA  92107
619-224-2894

Gathering
Please Stand (as you are able) at the parts of the liturgy marked with an asterisk (*).
Bold type means congregational participation.
PRELUDE                                                                           Forgive Our Sins As We Forgive
*  CONFESSION AND FORGIVENESS
P          Blessed be the holy Trinity, ☩ one God, who forgives all our sin, whose mercy endures forever.
C         Amen.
P          God of all mercy and consolation, come to the help of your people, turning us from our sin to live for you alone. Give us the power of your Holy Spirit that we may confess our sin, receive your forgiveness, and grow into the fullness of Jesus Christ, Our Savior and Lord.
C         Amen.
P          Let us confess our sin in the presence of God and of one another.
            Most merciful God,
C         we confess that we are captive to sin and cannot free ourselves. We have sinned against you in thought, word, and deed, by what we have done and by what we have left undone. We have not loved you with our whole heart; we have not loved our neighbors as ourselves. For the sake of your Son, Jesus Christ, have mercy on us. Forgive us, renew us, and lead us, so that we may delight in your will and walk in your ways, to the glory of your holy name. Amen.
P          God, who is rich in mercy, loved us even when we were dead in sin, and made us alive together with Christ. By grace you have been saved. In the name of ☩ Jesus Christ, your sins are forgiven. Almighty God strengthen you with power through the Holy Spirit, that Christ may live in your hearts through faith.
C         Amen.
* GATHERING HYMN                                             Awake, O Sleeper, Rise From Death
Hymn #452
*  GREETING
P          The grace of our Lord Jesus Christ, the love of God, and the communion of the Holy Spirit be with you all.
C         And also with you.
*  CANTICLE OF PRAISE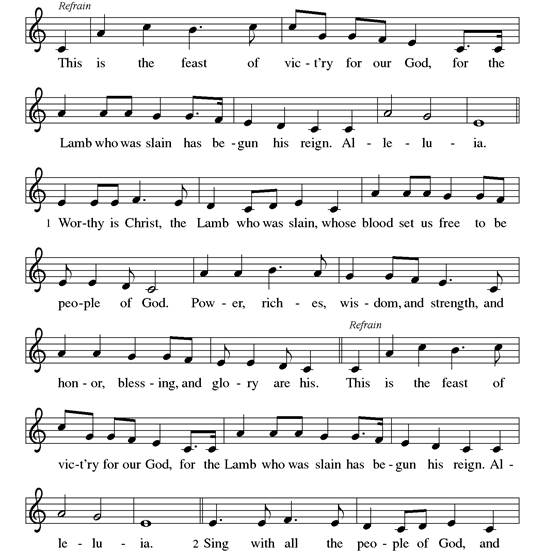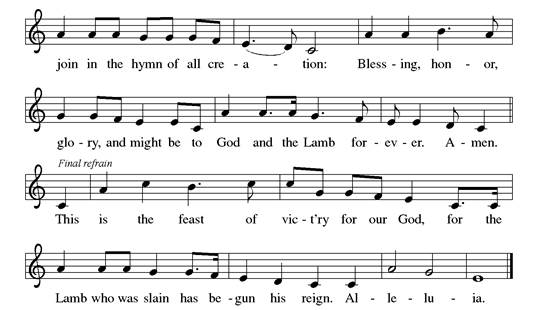 *  PRAYER OF THE DAY
P          Let us pray.  O Lord God, merciful judge, you are the inexhaustible fountain of forgiveness. Replace our hearts of stone with hearts that love and adore you, that we may delight in doing your will, through Jesus Christ, our Savior and Lord.
C         Amen.
CHILDREN'S STORY
Jesus loves the little children, all the children of the world.
Every age and every race, all are covered by God's Grace.
Jesus loves the little children of the world.

Word
FIRST READING
L         A reading from Genesis.
50:15 Realizing that their father was dead, Joseph's brothers said, "What if Joseph still bears a grudge against us and pays us back in full for all the wrong that we did to him?" 16So they approached Joseph, saying, "Your father gave this instruction before he died, 17'Say to Joseph: I beg you, forgive the crime of your brothers and the wrong they did in harming you.' Now therefore please forgive the crime of the servants of the God of your father." Joseph wept when they spoke to him. 18Then his brothers also wept, fell down before him, and said, "We are here as your slaves." 19But Joseph said to them, "Do not be afraid! Am I in the place of God? 20Even though you intended to do harm to me, God intended it for good, in order to preserve a numerous people, as he is doing today. 21So have no fear; I myself will provide for you and your little ones." In this way he reassured them, speaking kindly to them.
L          Word of God, word of life.
C         Thanks be to God.
PSALM
L    Let us pray Psalm 103 responsively.
8Lord, you are full of compassion and mercy,
  slow to anger and abounding in steadfast love;
9you will not always accuse us,
  nor will you keep your anger forever.
10You have not dealt with us according to our sins,
  nor repaid us according to our iniquities.
11For as the heavens are high above the earth,
  so great is your steadfast love for those who fear you.
12As far as the east is from the west,
  so far have you removed our transgressions from us.
13As a father has compassion for his children,
  so you have compassion for those who fear you, O Lord.
Glory to the Father, and to the Son, and to the Holy Spirit;
as it was in the beginning, is now, and will be forever.  Amen.
SECOND READING
L    A reading from Romans.
14:1 Welcome those who are weak in faith, but not for the purpose of quarreling over opinions. 2Some believe in eating anything, while the weak eat only vegetables. 3Those who eat must not despise those who abstain, and those who abstain must not pass judgment on those who eat; for God has welcomed them. 4Who are you to pass judgment on servants of another? It is before their own lord that they stand or fall. And they will be upheld, for the Lord is able to make them stand.
         5Some judge one day to be better than another, while others judge all days to be alike. Let all be fully convinced in their own minds. 6Those who observe the day, observe it in honor of the Lord. Also those who eat, eat in honor of the Lord, since they give thanks to God; while those who abstain, abstain in honor of the Lord and give thanks to God.
         7We do not live to ourselves, and we do not die to ourselves. 8If we live, we live to the Lord, and if we die, we die to the Lord; so then, whether we live or whether we die, we are the Lord's. 9For to this end Christ died and lived again, so that he might be Lord of both the dead and the living.
         10Why do you pass judgment on your brother or sister? Or you, why do you despise your brother or sister? For we will all stand before the judgment seat of God. 11For it is written,
 "As I live, says the Lord, every knee shall bow to me,
  and every tongue shall give praise to God."
12So then, each of us will be accountable to God.
L          Word of God, word of life.
C         Thanks be to God.
*  GOSPEL ACCLAMATION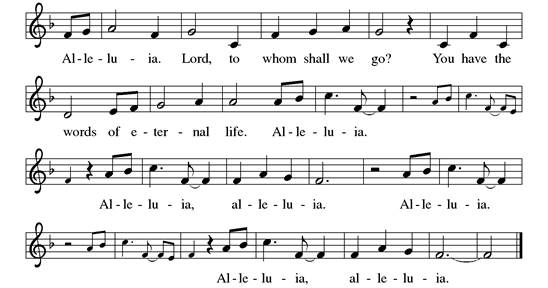 *  GOSPEL READING
P          The Holy Gospel according to Matthew.
C         Glory to you, O Lord.
18:21 Peter came and said to [Jesus], "Lord, if another member of the church sins against me, how often should I forgive? As many as seven times?" 22Jesus said to him, "Not seven times, but, I tell you, seventy-seven times.
         23"For this reason the kingdom of heaven may be compared to a king who wished to settle accounts with his slaves. 24When he began the reckoning, one who owed him ten thousand talents was brought to him; 25and, as he could not pay, his lord ordered him to be sold, together with his wife and children and all his possessions, and payment to be made. 26So the slave fell on his knees before him, saying, 'Have patience with me, and I will pay you everything.' 27And out of pity for him, the lord of that slave released him and forgave him the debt. 28But that same slave, as he went out, came upon one of his fellow slaves who owed him a hundred denarii; and seizing him by the throat, he said, 'Pay what you owe.' 29Then his fellow slave fell down and pleaded with him, 'Have patience with me, and I will pay you.' 30But he refused; then he went and threw him into prison until he would pay the debt. 31When his fellow slaves saw what had happened, they were greatly distressed, and they went and reported to their lord all that had taken place. 32Then his lord summoned him and said to him, 'You wicked slave! I forgave you all that debt because you pleaded with me. 33Should you not have had mercy on your fellow slave, as I had mercy on you?' 34And in anger his lord handed him over to be tortured until he would pay his entire debt. 35So my heavenly Father will also do to every one of you, if you do not forgive your brother or sister from your heart."
P          The Gospel of the Lord.
C         Praise to you, O Christ.
*  HYMN OF THE DAY                                                    Where Charity and Love Prevail
Hymn #359
*  APOSTLES' CREED
C         I believe in God, the Father almighty,
creator of heaven and earth.
I believe in Jesus Christ, God's only Son, our Lord,
            who was conceived by the Holy Spirit,
            born of the virgin Mary, suffered under Pontius Pilate,
            was crucified, died, and was buried;
            he descended to the dead.
            On the third day he rose again; he ascended into heaven,
            he is seated at the right hand of the Father,
            and he will come to judge the living and the dead.
I believe in the Holy Spirit,
            the holy catholic church, the communion of saints,
            the forgiveness of sins, the resurrection of the body,
            and the life everlasting. Amen.
*  PRAYERS                                                    After each petition,    D  … Merciful God,
                                                                                                       C     receive our prayer.
D         Into your hands, O Lord, we commend all for whom we pray trusting in your mercy through Jesus Christ.
C         Amen.
*  PEACE
P          The peace of Christ be with you always.
C         And also with you.

Meal
OFFERTORY ANTHEM        Lord of All Nations, Grant Me Grace         St. Peter's Choir
Please stand as the ushers bring the gifts to the Altar
Let the Vineyards Be Fruitful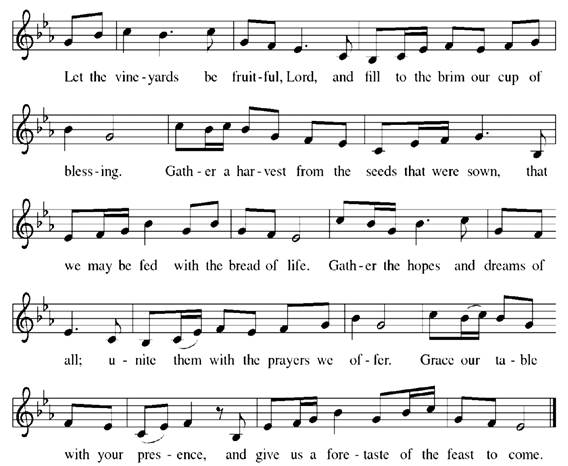 *  GREAT THANKSGIVING
P          The Lord be with you.
C         And also with you.
P          Lift up your hearts.
C         We lift them to the Lord
P          Let us give thanks to the Lord our God.
C         It is right to give our thanks and praise.
P          It is indeed right, our duty and our joy, . . .
. . . we praise your name and join their unending hymn:
*  HOLY, HOLY, HOLY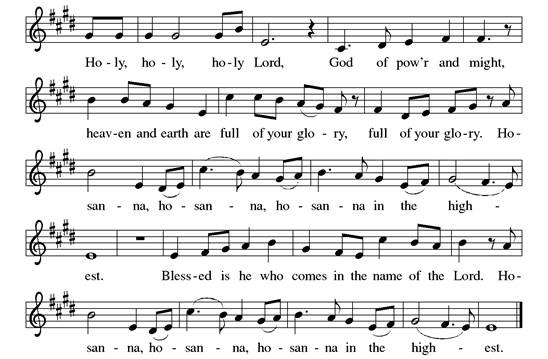 *  THANKSGIVING AT THE TABLE
*  THE LORD'S PRAYER
C         Our Father, who art in heaven, hallowed be thy name, thy kingdom come, thy will be done, on earth as it is in heaven. Give us this day our daily bread; and forgive us our trespasses, as we forgive those who trespass against us; and lead us not into temptation, but deliver us from evil. For thine is the kingdom, and the power, and the glory, forever and ever. Amen.
P          The gifts of God, for the people of God.
C         Thanks be to God.
This is Christ's table, it is not our own.  All are welcome.
The usher will direct you to enter by the center aisle.  Receive the bread from the pastor, ask for Gluten Free if needed.  Receive wine (red) or grape juice (white) from the communion assistants.  If you prefer to receive a blessing, cross your arms over your chest.
LAMB OF GOD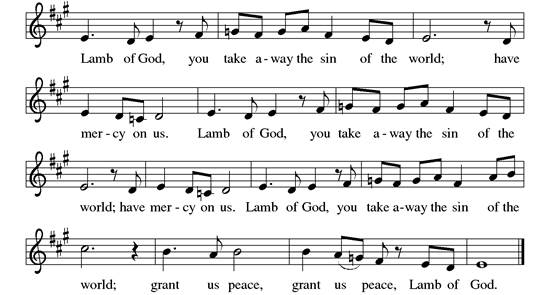 COMMUNION HYMNS
            #471    Let Us Break Bread Together
            #639    When We Are Living
*  BLESSING AFTER COMMUNION
P          The body and blood of our Lord Jesus Christ strengthen you and keep you in his grace.
C         Amen.
*  BLESSING FOR THOSE AT HOME
P          Spirit of Gentleness and Justice, rush through the airwaves and rest upon those who worship from home with us today.  Be their advocate, breathe into them your life, and weave us into one body; your body given for others.
C         Amen.

Sending
*  BLESSING
P          The God of all, who raised ☩ Jesus from the dead, bless you by the power of the Holy Spirit to live in the new creation.
C         Amen.
*  SENDING HYMN                                                                             In Thee Is Gladness
Hymn #867
*  DISMISSAL
D         Go in peace. Serve the Risen One.
C         Thanks be to God.
POSTLUDE                                                                         Goodness Is Stronger Than Evil
SCRIPTURES FOR THE COMING WEEK
Reflections for Sunday, 09-17-2023, The Sixteenth Sunday after Pentecost
Preparation for Sunday, 09-24-2023, The Seventeenth Sunday after Pentecost
Scripture for Sunday, 09-24-2023, The Seventeenth Sunday after Pentecost
+ + + + + + +
IN OUR PRAYERS
We keep the following members of St. Peter's in our prayers:
Sue, Lorrayne
Our homebound members and those in care facilities:
Keith, Dolores, Janet, Jane H., Carolyn, Dante
Our members with on-going concerns:
 Ann Z., Lily
Our military, police, fire fighters, first responders and healthcare providers
WELCOME TO ST. PETER'S BY THE SEA
We are glad that you have come to worship with us today! Please sign a WELCOME card found in the pew rack, and give it to an usher or drop it in the offering plate. Large-print bulletins and children's bulletins are available from an usher. You will find hand sanitizer in the pew rack for your use during the service.
ALTAR FLOWERS: Today, the flowers at the altar are given by Richard Doering in honor of Colleen's birthday. We also thank the Fellowship Committee for the coffee fellowship after the service.
THANK YOU TO ALL WHO VOLUNTEERED FOR GOD'S WORK. OUR HANDS. last weekend. On Saturday, during the Sunset Cliffs Car Show, we staffed an information table to share God's love and ran a Kid's Activity Zone; the mini-cars and racetrack were a big hit! On Sunday, a group of folks cleaned Point Loma Ave. & Sunset Cliffs Blvd.
WOMEN'S SPIRITUAL BOOK STUDY: begins Tuesday, September 19th at 6:30 p.m. and will be reading and discussing The Mystery of Christ and Why We Don't Get It by Robert Farrar Capon. If you would be interested in joining this group, speak with Diane Sherwood.
CALLING ALL WALKERS: Starting tomorrow, September 18th, a walking group will begin a once a month walk and fellowship. We'll meet at 10:30 am at the large flag pole in Ingram Plaza in Liberty Station in the grass area near Dewey and Cushing roads.  All Are Welcome (members, visitors, neighbors, friends, family).  It will be a time to exercise, connect with others and enjoy the outdoors.  If you have any questions please contact Darlene Truver.
SUNDAY SCHOOL resumes today!
PLAY GROUND TIME! Beginning today and every Sunday except the last Sunday of the month, St. Peter's will have our friend Anya out on the playground until 11:30 to monitor any kids who want to play after worship.  Parents can join on the playground or enjoy some adult conversation while kiddo's play!
CALLING ALL CRAFTERS to help create Christmas decor for our December Christmas boutique. We're gathering on Tuesdays in the Fellowship Hall at 9:30am. Any questions see Solveig Fuentes.
HEARING ASSISTANCE DEVICES: Ask an usher if you'd like to use a device during the worship service.
NEWSLETTER DEADLINE: All articles, announcements, thank-you's, etc. for the October issue of The Net, are due to the church office by September 20th.
The Week Beginning September 17, 2023
Sunday, September 17        The Sixteenth Sunday after Pentecost
        8:30 a.m.                        Choir Rehearsal
        9:30 a.m.                        Worship Service, live-streamed; Sunday School
      10:30 a.m.                        Fellowship
        7:00 p.m.                        Al-Anon - Sunday Night Courage to Change
Monday, September 18
Tuesday, September 19
        9:30 a.m.                        Church Mice & Christmas Crafters
        9:30 a.m.                        Preschool Chapel
      11:00 a.m.                        Staff Meeting
      12:30 p.m.                        Ta'i Chi Class
        4:00 p.m.                        AA Meeting - Sobriety Seekers
        6:30 p.m.                        Women's Book Study
Wednesday, September 20  Newsletter Deadline
Thursday, September 21
      10:45 a.m.                        Soccer Shots (Preschool)
        5:30 p.m.                        NA Meeting – Eleven-11
Friday, September 22
        9:30 a.m.                        Preschool Chapel
        6:00 p.m.                        Preschool Open House
Saturday, September 23
        9:00 a.m.                        Stewardship Retreat
Sunday, September 24        The Seventeenth Sunday after Pentecost
        8:30 a.m.                        Choir Rehearsal
        9:30 a.m.                        Worship Service, live-streamed; Sunday School
      10:30 a.m.                        Fellowship
        7:00 p.m.                        Al-Anon - Sunday Night Courage to Change
Worship Leadership
| | |
| --- | --- |
| Pastor: | |
| Music Minister: | |
| Altar Care: | Jim Grutkowski |
| Worship Assistant: | Congregation Deacon Jennifer Smart |
| Lector: | Richard Doering |
| Ushers: | Bob Fode and Gabi Hughes |
| Greeter: | Diane Sherwood |
| Digital Production Team: | Lyle Boelter and Charles Lauger |
2023 Congregation Council
John Smart, President; Pat Hendrickson, Vice-President; Richard Nielsen, Secretary;
Darlene Morrow Truver, Treasurer; Sandra Boelter, Solveig Fuentes, Fletcher Miller, Steve Silva, Scott Walls, Betty Wells.
From sundaysandseasons.com.
Copyright © 2023 Augsburg Fortress. All rights reserved.
Permission to reprint, podcast, and / or stream the music in this service obtained from ONE LICENSE with license #A-712165. All rights reserved.