The Sixth Sunday of Easter
May 22, 2022 at 9:30 a.m.
(live-streamed)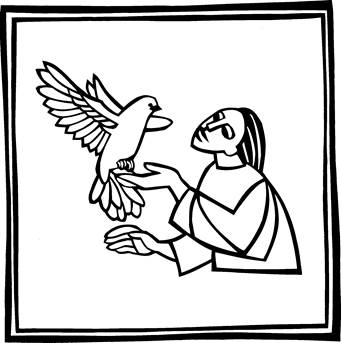 St. Peter's by the Sea Lutheran Church
1371 Sunset Cliffs Boulevard
San Diego, CA  92107
619-224-2894

Gathering
Notes on worshiping indoors during this COVID Recovery Time:
Masks: Currently, masks are optional.
Please Stand (as you are able) at the parts of the liturgy marked with an asterisk (*).
Bold type means congregational participation.
PRELUDE                                                                                                   O Blessed Spring
*  THANKSGIVING FOR BAPTISM
P          Blessed be the holy Trinity, ☩ one God, the fountain of living water, the rock who gave us birth, our light and our salvation.
C         Amen.
P          Joined to Christ in the waters of baptism, we are clothed with God's
mercy and forgiveness. Let us give thanks for the gift of baptism.
We give you thanks, O God, for in the beginning your Spirit moved over the waters and by your Word you created the world, calling forth life in which you took delight.
Through the waters of the flood you delivered Noah and his family. Through the sea you led your people Israel from slavery into freedom. At the river your Son was baptized by John and anointed with the Holy Spirit. By water and your Word you claim us as daughters and sons, making us heirs of your promise and servants of all.
We praise you for the gift of water that sustains life, and above all we praise you for the gift of new life in Jesus Christ. Shower us with your Spirit, and renew our lives with your forgiveness, grace, and love.
To you be given honor and praise through Jesus Christ our Lord in the unity of the Holy Spirit, now and forever.
C         Amen.
* GATHERING HYMN                                                                     Alleluia! Jesus Is Risen
Hymn #377 (v. 1-4)
*  GREETING
P          The grace of our Lord Jesus Christ, the love of God, and the communion of the Holy Spirit be with you all.
C         And also with you.
*  CANTICLE OF PRAISE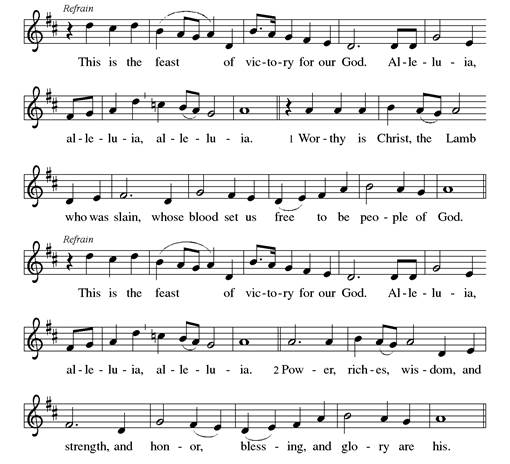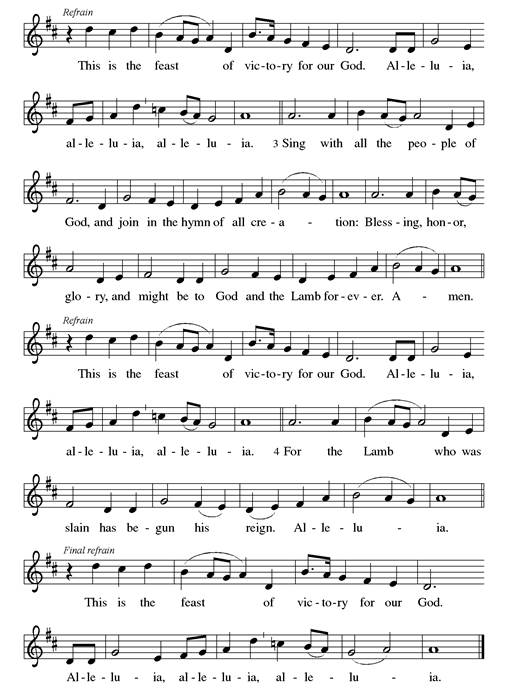 *  PRAYER OF THE DAY
P          Let us pray.  Bountiful God, you gather your people into your realm, and you promise us food from your tree of life. Nourish us with your word, that empowered by your Spirit we may love one another and the world you have made, through Jesus Christ, our Savior and Lord, who lives and reigns with you and the Holy Spirit, one God, now and forever.
C         Amen.

Word
FIRST READING
L         A reading from Acts.
16:9 During the night Paul had a vision: there stood a man of Macedonia pleading with him and saying, "Come over to Macedonia and help us." 10When he had seen the vision, we immediately tried to cross over to Macedonia, being convinced that God had called us to proclaim the good news to them.
         11We set sail from Troas and took a straight course to Samothrace, the following day to Neapolis, 12and from there to Philippi, which is a leading city of the district of Macedonia and a Roman colony. We remained in this city for some days. 13On the sabbath day we went outside the gate by the river, where we supposed there was a place of prayer; and we sat down and spoke to the women who had gathered there. 14A certain woman named Lydia, a worshiper of God, was listening to us; she was from the city of Thyatira and a dealer in purple cloth. The Lord opened her heart to listen eagerly to what was said by Paul. 15When she and her household were baptized, she urged us, saying, "If you have judged me to be faithful to the Lord, come and stay at my home." And she prevailed upon us.
L          Word of God, word of life.
C         Thanks be to God.
PSALM
L    Let us pray Psalm 67 responsively.
1May God be merciful to us and bless us;
  may the light of God's face shine upon us.
2Let your way be known upon earth,
  your saving health among all nations.
3Let the peoples praise you, O God;
  let all the peoples praise you.
4Let the nations be glad and sing for joy,
  for you judge the peoples with equity and guide all the nations on earth.
5Let the peoples praise you, O God;
  let all the peoples praise you.
6The earth has brought forth its increase;
  God, our own God, has blessed us.
7May God give us blessing,
  and may all the ends of the earth stand in awe.
Glory to the Father, and to the Son, and to the Holy Spirit;
as it was in the beginning, is now, and will be forever.  Amen.
SECOND READING
L    A reading from Revelation.
21:10 And in the spirit [one of the angels] carried me away to a great, high mountain and showed me the holy city Jerusalem coming down out of heaven from God.
         22I saw no temple in the city, for its temple is the Lord God the Almighty and the Lamb. 23And the city has no need of sun or moon to shine on it, for the glory of God is its light, and its lamp is the Lamb. 24The nations will walk by its light, and the kings of the earth will bring their glory into it. 25Its gates will never be shut by day—and there will be no night there. 26People will bring into it the glory and the honor of the nations. 27But nothing unclean will enter it, nor anyone who practices abomination or falsehood, but only those who are written in the Lamb's book of life.
22:1Then the angel showed me the river of the water of life, bright as crystal, flowing from the throne of God and of the Lamb 2through the middle of the street of the city. On either side of the river is the tree of life with its twelve kinds of fruit, producing its fruit each month; and the leaves of the tree are for the healing of the nations. 3Nothing accursed will be found there any more. But the throne of God and of the Lamb will be in it, and his servants will worship him; 4they will see his face, and his name will be on their foreheads. 5And there will be no more night; they need no light of lamp or sun, for the Lord God will be their light, and they will reign forever and ever.
L          Word of God, word of life.
C         Thanks be to God.
*  GOSPEL ACCLAMATION

*  GOSPEL READING
P          The Holy Gospel according to John.
C         Glory to you, O Lord.
5:1 After this there was a festival of the Jews, and Jesus went up to Jerusalem.
         2Now in Jerusalem by the Sheep Gate there is a pool, called in Hebrew Beth-zatha, which has five porticoes. 3In these lay many invalids—blind, lame, and paralyzed. 5One man was there who had been ill for thirty-eight years. 6When Jesus saw him lying there and knew that he had been there a long time, he said to him, "Do you want to be made well?" 7The sick man answered him, "Sir, I have no one to put me into the pool when the water is stirred up; and while I am making my way, someone else steps down ahead of me." 8Jesus said to him, "Stand up, take your mat and walk." 9At once the man was made well, and he took up his mat and began to walk. Now that day was a sabbath.
P          The Gospel of the Lord.
C         Praise to you, O Christ.
*  HYMN OF THE DAY                                                     Love Divine, All Loves Excelling
Hymn #631
*  APOSTLES' CREED
C         I believe in God, the Father almighty,
creator of heaven and earth.
I believe in Jesus Christ, God's only Son, our Lord,
            who was conceived by the Holy Spirit,
            born of the virgin Mary,
            suffered under Pontius Pilate,
            was crucified, died, and was buried;
            he descended to the dead.
            On the third day he rose again;
            he ascended into heaven,
            he is seated at the right hand of the Father,
            and he will come to judge the living and the dead.
I believe in the Holy Spirit,
            the holy catholic church,
            the communion of saints,
            the forgiveness of sins,
            the resurrection of the body,
            and the life everlasting. Amen.
*  PRAYERS                                         After each petition,    D  … God, in your mercy,
                                                                                                          C     hear our prayer.
D         Into your hands, O Lord, we commend all for whom we pray trusting in your mercy through Jesus Christ.
C         Amen.
*  PEACE
P          The peace of Christ be with you always.
C         And also with you.

Meal
OFFERTORY HYMN          The Lord Bless You and Keep You                St. Peter's Choir
Please stand as the ushers bring the gifts to the Altar
Let the Vineyards Be Fruitful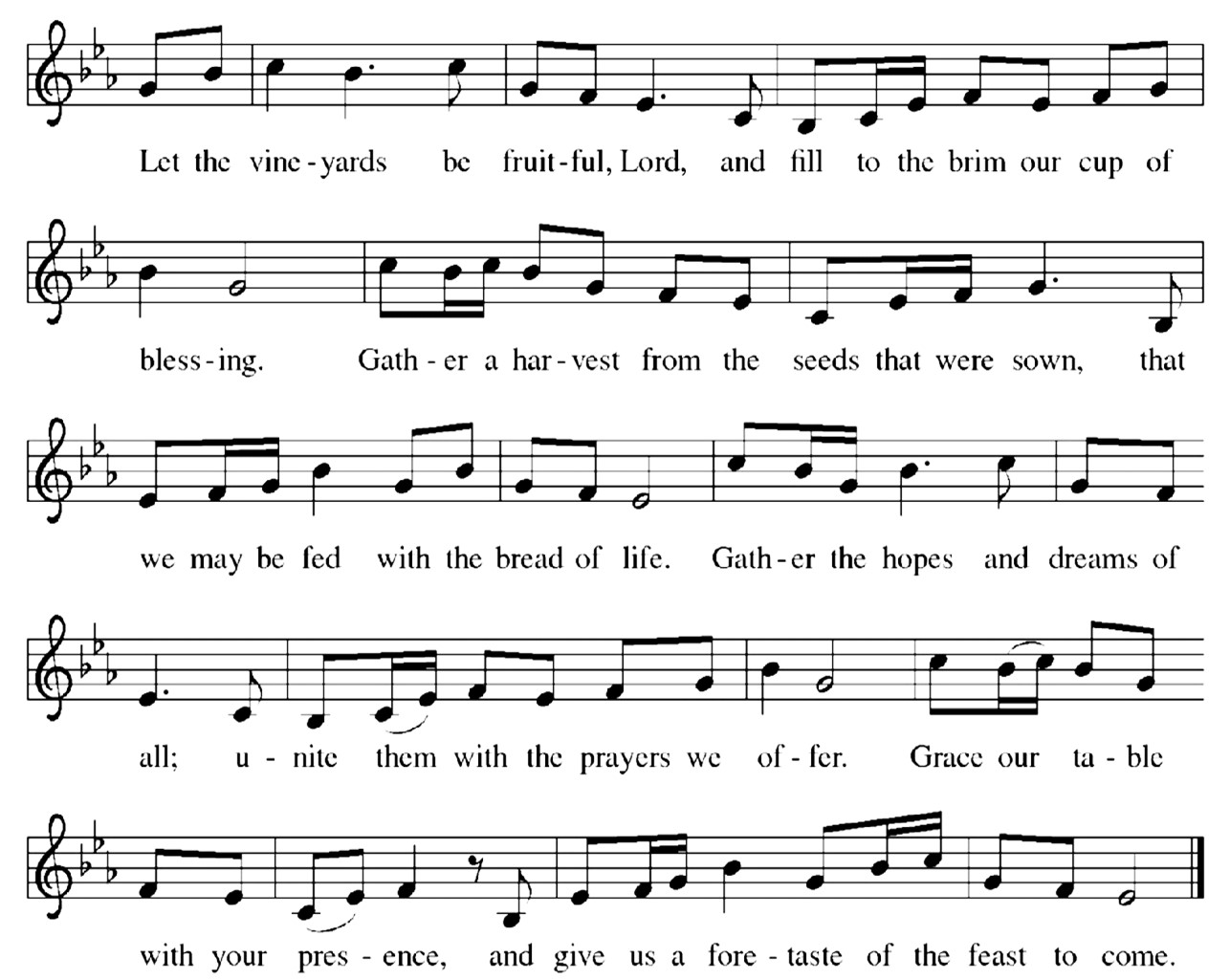 *  OFFERING PRAYER
D         Let us pray. Blessed are you, O God, ruler of heaven and earth. Day by day you shower us with blessings. As you have raised us to new life in Christ, give us glad and generous hearts, ready to praise you and to respond to those in need, through Jesus Christ, our Savior and Lord.
C         Amen.
*  GREAT THANKSGIVING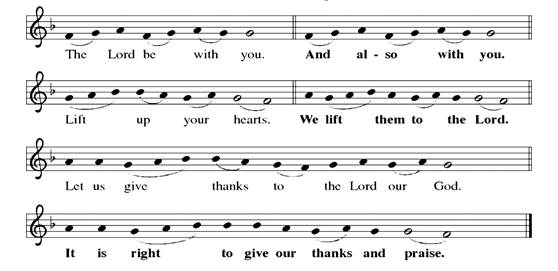 P          It is indeed right, our duty and our joy, … (Here the minister continues with the proper preface concluding:) …we praise your name and join their unending hymn:
*  HOLY, HOLY, HOLY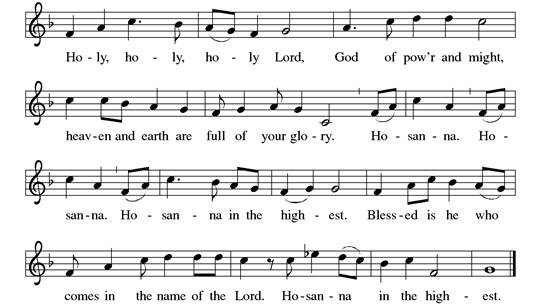 *  THANKSGIVING AT THE TABLE
P          Holy, living, and loving God,
we praise you for creating the heavens and the earth.
We bless you for bringing Noah and his family
through the waters of the flood,
for freeing your people Israel from the bonds of slavery,
and for sending your Son to be our Redeemer.
We give you thanks for Jesus who, living among us, healed the sick,
fed the hungry, and with a love stronger than death,
gave his life for others.
In the night in which he was betrayed,
our Lord Jesus took bread, and gave thanks;
broke it, and gave it to his disciples, saying:
Take and eat; this is my body, given for you.
Do this for the remembrance of me.
Again, after supper, he took the cup, gave thanks,
and gave it for all to drink, saying:
This cup is the new covenant in my blood,
shed for you and for all people for the forgiveness of sin.
Do this for the remembrance of me.
Remembering, therefore, his life-giving death and glorious resurrection,
we await your promised life for all this dying world.
Breathe your Spirit on us and on this bread and cup:
carry us in your arms from death to life, that we may live as your chosen ones, clothed in the righteousness of Christ.
Through him all glory and honor is yours,
Almighty Father, with the Holy Spirit,
in your holy Church, both now and forever.
C         Amen.
*  THE LORD'S PRAYER
C         Our Father, who art in heaven, hallowed be thy name, thy kingdom come, thy will be done, on earth as it is in heaven. Give us this day our daily bread; and forgive us our trespasses, as we forgive those who trespass against us; and lead us not into temptation, but deliver us from evil. For thine is the kingdom, and the power, and the glory, forever and ever. Amen.
P          The gifts of God, for the people of God.
C         Thanks be to God.
COMMUNION                                   CHRIST BIDS YOU WELCOME TO THIS HOLY MEAL!
This is Christ's table, it is not our own.  All are welcome.
 The usher will direct you to enter by the center aisle.  Receive the bread from the pastor, ask for Gluten Free if needed.  Receive wine (red) or grape juice (white) from the communion assistants at the end of the chancel.  If you prefer to receive a blessing, cross your arms over your chest.
LAMB OF GOD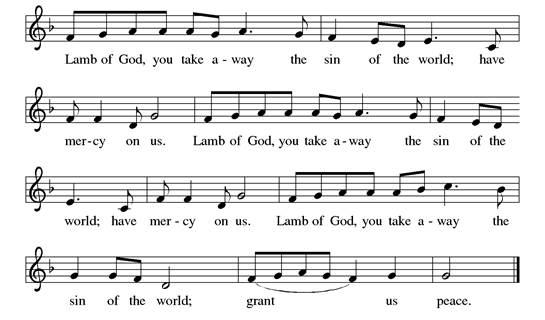 COMMUNION HYMNS
            #785    When Peace Like A River (v. 1-2)
            #646    The Peace Of the Lord (v. 1-2)
*  BLESSING AFTER COMMUNION
P          The body and blood of our Lord Jesus Christ strengthen you and keep you in his grace.
C         Amen.
*  BLESSING FOR THOSE AT HOME
P          God, as the grains of wheat once scattered on the hill are gathered into one to become our bread, gather us up with those who are scattered far and wide who worship with us from home.  Bless the distance between us, bless the love that connects us, bless the worship that binds us together with friends we know and friends we have yet to meet, that those at home would know that they are beheld in love by your church and never alone.
C         Amen.

Sending
*  BLESSING
P          The Lord bless you and keep you. The Lord's face shine on you with grace and mercy. The Lord look upon you with favor and ☩ give you peace.
C         Amen.
*  SENDING HYMN                                                       My Life Flows On in Endless Song
Hymn #763 (v. 1-3)
*  DISMISSAL
D         Go in peace. Share the good news.
C         Thanks be to God.
POSTLUDE                                                                            Come Down, O Love Divine
SCRIPTURES FOR THE COMING WEEK
Reflections for Sunday, 05-22-2022, The Sixth Sunday of Easter
Preparation for Sunday, 05-29-2022, The Seventh Sunday of Easter
Scripture for Sunday, 05-29-2022, The Seventh Sunday of Easter
+ + + + + + +
IN OUR PRAYERS
We keep the following members of St. Peter's in our prayers:
Terri, Chris G., Elaine, Sandie
Our homebound members and those in care facilities:
Keith, Wayne, Dora, Dante, Dolores, Janet, Jane H., Carolyn
Our members with on-going concerns:
 Ann Z., Lorrayne
Our military, police, fire fighters, first responders and healthcare providers
WELCOME TO ST. PETER'S BY THE SEA
We are glad that you have come to worship with us today! Please sign a WELCOME card found in the pew rack, and give it to an usher or drop it in the offering plate. Large-print bulletins and children's bulletins are available from an usher. You will find hand sanitizer in the pew rack for your use during the service.
MASK REQUIREMENTS: Our current policy is masks optional; we will continue to monitor CDC and County guidelines.
ALTAR FLOWERS: Today, the flowers at the altar are given by the Fode family in honor of Bob's birthday.
2022 ALTAR FLOWER sponsor calendar is posted on the bulletin board in the Fellowship Hall. There is a suggested donation of $45 to sponsor altar flowers and you may take the flowers home with you after the worship service. This is a lovely way to honor or memorialize someone dear to you.
SUNDAY SCHOOL: Our next, and final session before summer break, is June 5th.
YOUTH GROUP meets the first Sunday of the month from 4:30 – 6:30 p.m. Next gathering: June 5th at Christ Lutheran.
SAVE THE DATE – VBS: Vacation Bible School will be held the first week of August. Volunteers are needed, please contact Sandie Boelter.  Registration forms will be available mid-June.
HAND AND FOOT: Our next Hand & Foot card game is Friday, June 3rd at 6:00p.m. This is a fun and easy game to learn; invite your friends! Please sign up on the bulletin board as the game is played in groups of four. Contact Jane Christensen with any questions.
HEARING ASSISTANCE DEVICES: Ask an usher if you'd like to use a device during the worship service.
NAME TAGS: We're preparing a new batch of name tags at the end of the month. If you attend St. Peter's, we'd love for you to have a name tag or if you've lost yours, please put a note in the offering plate or email the church office with your request. Thank you!
The Week Beginning May 22, 2022
Sunday, May 22                   The Sixth Sunday of Easter
        8:30 a.m.                        Choir Rehearsal
        9:30 a.m.                        Worship Service, live-streamed
      10:30 a.m.                        Fellowship
        7:00 p.m.                        Al-Anon - Sunday Night Courage to Change
Monday, May 23
Tuesday, May 24
        9:30 a.m.                        Church Mice
        9:30 a.m.                        Preschool Chapel
      11:00 a.m.                        Staff Meeting
      12:30 p.m.                        Ta'i Chi Class
        4:00 p.m.                        AA Meeting - Sobriety Seekers
Wednesday, May 25
Thursday, May 26
        8:30 a.m.                        Point Loma Realtor Asso.
Friday, May 27
        9:30 a.m.                        Preschool Chapel
Saturday, May 28
Sunday, May 29                    The Seventh Sunday of Easter
        8:30 a.m.                        Choir Rehearsal
        9:30 a.m.                        Worship Service, live-streamed
      10:30 a.m.                        Fellowship
      10:30 a.m.                        Racial Justice Taskforce
        7:00 p.m.                        Al-Anon - Sunday Night Courage to Change
Worship Leadership
| | |
| --- | --- |
| Pastor: | |
| Music Minister: | |
| Altar Care: | Jim Grutkowski |
| Worship Assistant: | Congregation Deacon Joan Allton |
| Lector: | Richard Doering |
| Ushers: | Jane Landon and Diane Sherwood |
| Greeter: | Elaine Lauger |
| Sunday School: | No Sunday School Today |
| Digital Production Team: | Lyle Boelter, Charles Lauger, Evan Smart |
2022 Congregation Council
John Smart, President; Darlene Morrow Truver, Vice-President; Lyle Boelter, Secretary; Brenda Johnson, Treasurer; Solveig Fuentes; Fletcher Miller; Jon O'Brien; Ellen Schmeding; Steve Silva; Maya Slaughter; Scott Walls.
From sundaysandseasons.com.
Copyright © 2022 Augsburg Fortress. All rights reserved.
Permission to reprint, podcast, and / or stream the music in this service obtained from ONE LICENSE with license #A-712165. All rights reserved.