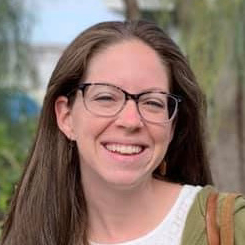 Pastor Bekki was born in central PA, raised in Upstate New York, went to college at Valparaiso University in Indiana, seminary at the Lutheran School of Theology at Chicago and has lived in Oregon and Washington State, before moving to San Diego in the summer of 2019 with her spouse, Marcus and their son, Elijah (since joined by a second son, Isaak.)
Marcus is the Pastor at Shepherd of the Valley Lutheran Church in La Mesa and it was his call that brought them to the San Diego area initially.
Pastor Bekki is passionate about worship and preaching and creating spaces where people can foster meaningful connection to each other and substantive depth in their spiritual lives. She loves that she was called to a church called St. Peter's by the Sea because she often takes her cues from Peter's call story in the bible. Peter is given the keys to the church, to lead the charge in unlocking people from the various things that have bound them in this life. He's equipped not because of his abilities or his greatness, but because as the guy who denied Jesus on the cross, he knows what it is to be completely doomed by his own actions. In other words, he gets the keys because he knows how awful it is to be locked up in himself. This is the work of the church, as Pastor Bekki sees it, to be lavish with forgiveness and grace and mercy in a world that is so often harsh with judgement and condemnation; to unleash a bound up world.
Pastor Bekki also loves being home with her family, dance parties with her two year old, traveling, puttering around her yard, reading and writing, good conversation, dry red wine, and taking classes and performing at Finest City Improv theater here in San Diego.