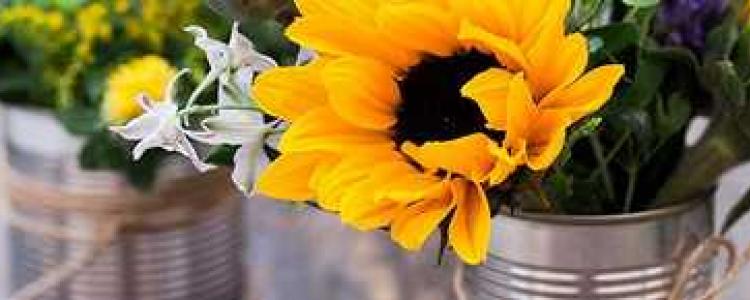 WELCOME TO ST. PETER'S BY THE SEA
We are glad that you have come to worship with us today!  Please sign a WELCOME card found in the pew rack, and give it to an usher or drop it in the offering plate.  A privacy room for those with infants is at the back of the sanctuary.  A nursery is available for toddlers and young children. Children's Church School for grades Pre-K to 5th grade meets during the service. Large-print bulletins and children's bulletins are available from an usher. You will find hand sanitizer in the pew rack for your use during the service.
SUNDAY HOSPITALITY is given for the praise and glory of God.  Today we thank Rose Engleman for the flowers at the altar given in memory of her husband and family members. We also thank the Christian Service Committee for the brunch after the service.
CHRISTIAN SERVICE BRUNCH & EMPTY BOWLS FUNDRAISER: Today, May 20th, is our annual fundraiser for TACO (Third Avenue Charitable Organization). The Christian Service committee is sponsoring a freewill offering brunch and Empty Bowls will be offered for sale for a suggested donation of $25 per bowl.
EMPTY BOWLS began in Michigan in 1990 with a desire to raise awareness and funds for hunger programs in the community. The project was brought to San Diego in 2007 with the tireless work of Lynn Render, Jim Grutkowski and Ade & Jane Christensen and currently is the largest fundraiser that TACO (Third Avenue Charitable Organization) has each year and is supported by several Empty Bowls events throughout San Diego.
NEXT TWO SUNDAYS: Pastor Darin Johnson will be presiding at St. Peter's. He is campus pastor at SDSU Agape House.
HAND AND FOOT: The next game of Hand & Foot cards is Saturday, June 9th at 5:00p.m. If you'd like to play, be sure to sign up on the bulletin board in the Fellowship Hall.
THE BARN RAISING FUNDRAISER is your opportunity to see Luther Glen, enjoy fellowship with our community and help raise enough money to begin building the Luther Glen Barn! Saturday, June 9th from 3:00 p.m. - 8:00 p.m. See the flyer on the bulletin board in the Fellowship Hall for more information.
VACATION BIBLE SCHOOL: St. Peter's annual VBS is scheduled for the week of July 23-27. Registration forms are available on St. Peter's website, in the Fellowship Hall and from the church office. Volunteers are needed, please contact Colleen Doering.
CHRIST IN OUR HOME: Daily Devotion booklets are available in the Narthex or from the church office. There are large print editions available.
2018 DIRECTORY: The newest Membership Directory is available from the church office.