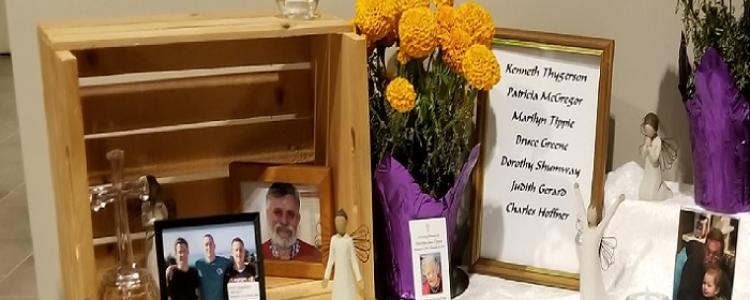 In some parts of the world November marks the real beginning of winter weather. Autumn has already changed her color and crispness means the cold of winter can't be far off. On the Christian calendar November marks the end of the liturgical year. We start the month with the Commemoration of All Saints and end with the Feast of Christ the King.
The secular calendar gives us one day of Thanksgiving but the Church calendar gives us EVERY Sunday for Thanksgiving. The word EUCHARIST, a word we use almost interchangeably with Holy Communion, is Greek for Thanksgiving.
So what are you thankful for this November? So many of our fellow Californians are suffering as a result of these terrible fires that are raging right now. And the terror of the Las Vegas shooting still stings our hearts. We continue to pray for all affected. The widespread loss of life and property makes us so much more thankful for what we have.
In November we add names of our deceased family and friends to our Book of Remembrance that is displayed in the Narthex. Please add names to this book and photos to the Table of Remembering. Since last All Saints' Day we held memorial services for seven members of St. Peter's by the Sea.
Ken Thygerson; Pat McGregor; Marilyn Tippie; Bruce Greene;
Dorothy Shumway; Judith Gerard and Charles Hoffner
We also remember a number of the parents and family members who have died this past year...
Bobbie Hall's sister, Annalise; Solveig Fuentes' uncle, Raymond; Pete Fuentes' sister and brother-inlaw, Miguel and Arrida; Ethan and Caleb Gilsdorf 's grandmother, Patricia; Brian Slaughter's father; Carolyn Irby's grandson, Rory; and Zoey Flint.
At our first communion class last month a child asked me about saying "Amen" at the reception of Communion and at the end of a prayer or blessing. As I explained the meaning of this Hebrew wordas an assent of faith, she got more interested. She ended up trying to think of other ways to say "so be it" "I agree" "I believe" or "I believe what you just said is true." Don't be surprised if you hear an "I'm in!" from a young person standing next to you in church.
Dag Hammarskjold gave us this wonderful little prayer. "For all that has been: THANKS! For all that will be: YES!"
May your November be filled with Thanks, Amen, Yes, I'm in!
In God's most amazing grace,
Pastor Karen Marohn