Pastor: Rev. Karen LaFollette Marohn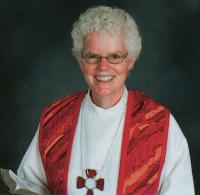 I arrived at St. Peter's on May 1, 2003 to begin my pastorate in this weather-paradise called San Diego. I spent the first half of my life in South Dakota so I know something about weather! My adult years in the mid-west were spent serving the Roman Catholic Church; first as a pastoral associate doing youth ministry, liturgy and Christian education for all ages and then as the parish pastor (called the pastoral administrator) in several rural congregations. The best part of those years was participating in team ministry and working with so many great people. That is when Don, later my husband, and I started working together. What a blessing to share life and ministry with your best friend! Don entered God's eternal embrace on September 3, 2007 and he is greatly missed by many.
My undergraduate work was in theology at St. John's University/College of St. Benedict in Minn. followed by graduate studies in pastoral ministry and liturgy at Boston College, and a M. Div. at Lutheran Theological Southern Seminary (cum laude) in Columbia, SC.
I am blessed to be called to St. Peter's by the Sea and the ministry that I am able to share here with so many wonderful people